Is there anyone who doesn't like taking an online quiz? I mean, don't you want to know the answer to "If you were an 80's outfit, what would you be?",?
If you say you don't much care for it, hear it from me, you're missing out on a lot. Admitted, online quizzes may be silly, but they tend to entertain you for a couple of minutes and will also be a very neat way to hold the attention of your audience.
Today's world thrives on marketing and people have an insane spread to entertain them and choose from. But studies have shown that in spite of such variety, the average attention span of a person has dropped down to a measly 8 seconds.
So then, as a marketer, how will you make sure that your customer base remains engaged with your brand and not leave in search of more interesting things? This is where you can take advantage of an online quiz. A vast majority of the people like taking online quizzes. It is a fun and entertaining way for them to kill time.
Online quizzes can also help you understand your customer base better and aid in figuring out ways to improve your relationship with them. There is a whole range of online quiz makers and survey tools available that will serve this purpose.
But it's up to you to decide on whether you want to give your customers a chill quiz to take or a more professional survey. Either way, you'll get to know more about their buying behaviour and tastes and much more. Make sure to choose something that will be best at achieving long-term results.
Before we go into the list of our top 10 best quiz makers, we'll take a couple of minutes to understand the key features of a good quiz maker.
Key Features to Look for in a Quiz Maker:
Quiz makers are very versatile. They come in all forms, from ultra-professional to hyper-casual. While some of these are purely for entertainment purposes, others are designed to gather information from the audience that will aid a business in their growth.
Now, whatever it is that you are trying to achieve with the data you collect, you must make sure that the quiz maker software you choose possesses the following three key features.
Look for Promotion Options:
Your main goal would be to collect the maximum number of responses from people. So, you need to choose a software that will help you increase your reach.
Go for one that has a built-in sharing option. Social media is your biggest ally, so make sure that the software you choose has a native sharing option that will have a good reach on social media platforms.

Collection of Data and Analysis:
The next most important question to be answered is, "How will you collect your data and utilize it?".
Firstly, the data you collect must be useful and informative. Otherwise, it's just going to be gibberish that is not going to help you in any way. Secondly, the collected data must be easy to sort through, otherwise it's just going to be a waste of your time.
This collected data can either be analysed inside the app itself, or exported in spreadsheets for external analysis, whichever suits you.

Lead Capture:
You will need to gather lead data from your customer base. Make sure that the quiz making software can integrate with your CRM or ESP software so that you can collect much more information.
Now, let's move on to the best quiz maker software available ad their features.
A List of The Best Quiz Makers Available:
Qzzr
GetFeedback
Google Forms
Riddle's Quiz maker
Playbuzz
Wufoo
Ask Nicely
Brandquiz
Form Crafts
ClassMarker
Pricing:
Offers a 15-days free trial
Basic plan at $0.25 per quiz taker a month
Premium plan at discounted price
Covers all the enterprise features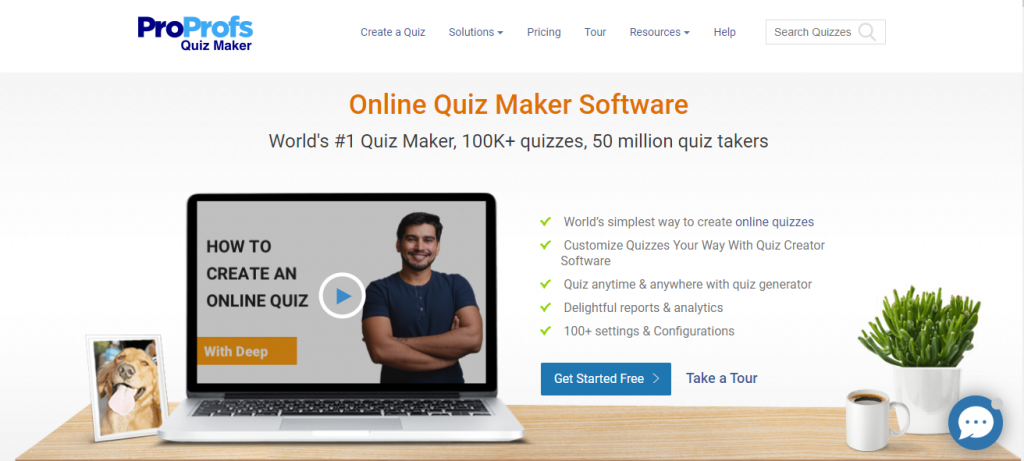 ProProfs Quiz Maker is one of the easiest quiz makers available. Its noteworthy features include 100+ quiz templates, a question library, lead forms, white-labeling, password-protection, and more. It is an ideal software for businesses with a need for regular assessments and lead generation. Using the varied quiz templates, businesses can easily create online assessments for easy recruitment and lead quizzes for 10x faster quality lead generation.
2. Qzzr:
Pricing:
Offers a 14-day free trial
Basic pack at $24.99/ month
Pro packs for your business, at a negotiable price
Custom builds, at a base price of $10,000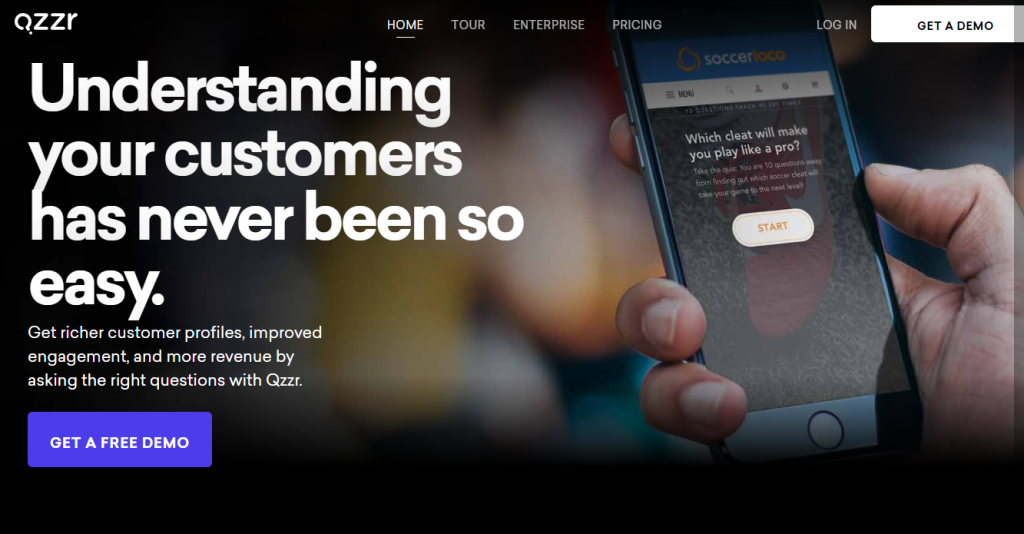 This quiz maker was developed by marketers with the main aim of gathering qualified leads from the audience. Qzzr allows you to create completely customized quizzes and surveys. It also boasts a simple and elegant user interface.
It possesses social sharing features that allow you to have a greater reach and also lets you analyse the data you collect from the responses, comprehensively.
The most outstanding feature it offers is the ability to show your users, targeted offers, depending upon their answers. For instance, it lets you add call-to-action (CTA) buttons on the results page, for products that the customer has shown interest in.
It comes at a reasonable pricing for the features it offers. However, there are still more advanced logic features that it lacks, which other software possess.
3. GetFeedback:
Pricing:
Offers a 14-day free trial that allows you to get 20 survey responses, and includes salesforce integration
Two annual plans available: Corporate and Salesforce plan
Custom quotes available
Premium pack at $50/ month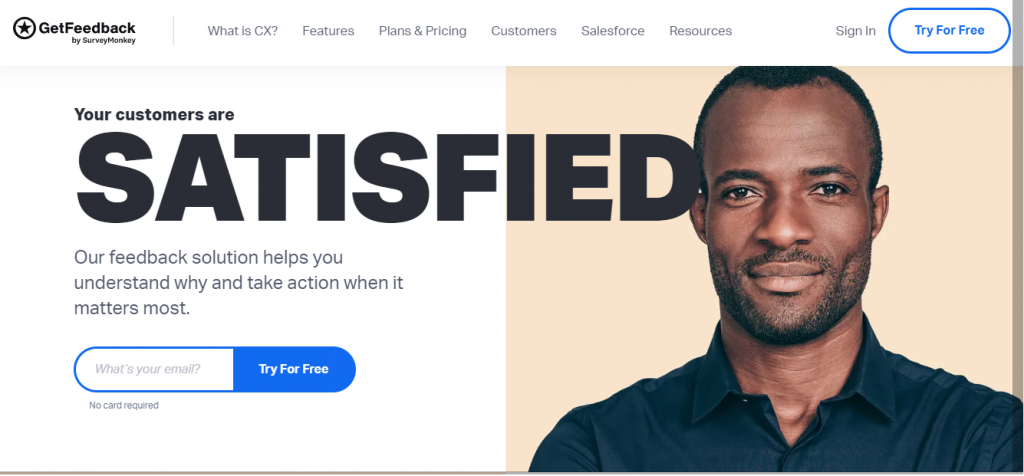 This quiz maker is one of the best and more advanced options for creating quizzes or surveys. In spite of its advanced software, it still has a user-friendly interface that even a beginner can navigate.
It provides integration into the Salesforce CRM software, which offers an extensive data analysis, helping you make good use of your collected data.
This software offers complete customization, according to your product or brand. Albeit on the more expensive end of the price range, this software comes highly recommended and is very useful for large companies that want to gather a huge amount of customer data that will help them improve business.
GetFeedback is no doubt the way to go if your primary goal is to extensively research your target audience.
4. Google Forms:
Pricing: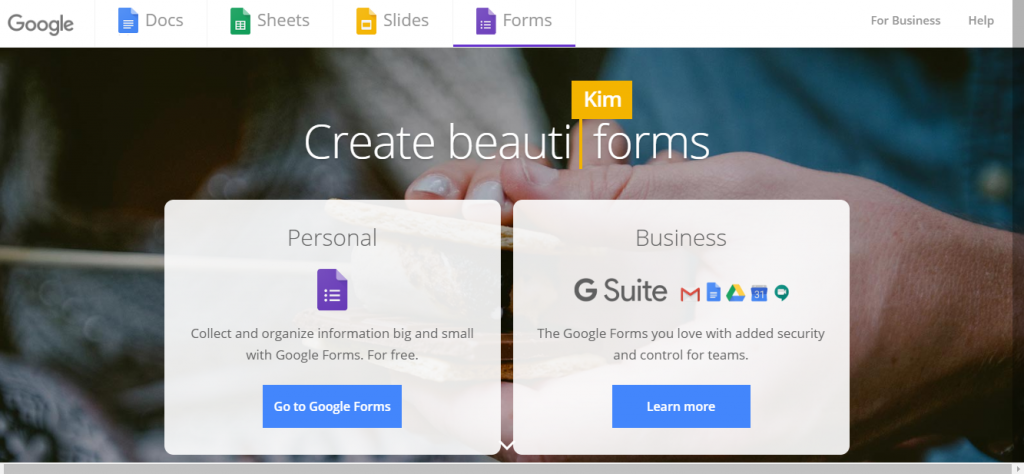 Google is forever sending out new releases that make our lives that much more, easier. Google forms is a form-making tool brought to you by the G Suite.
It's a very basic tool that can be used by anyone and is offered free of cost. It possesses a very minimalistic interface and comes with all the necessary basic functionalities.
It allows you to create quizzes or surveys and collect audience data. You can directly take the collected data into Google Sheets for analysis in-app itself, which eliminates the need for you to export the collected data. Analysed results can be represented in the form of pie charts or any other form of pictorial representation of the statistics.
The list of our top 10 quiz makers would of course be incomplete without Google forms.
Pricing:
Offers a 14-day free trial for all the packs
Basic, Pro and Team packs are available at $39, $69 and $299 per month rates
Annual packs come at a cheaper rate compared to monthly payment packs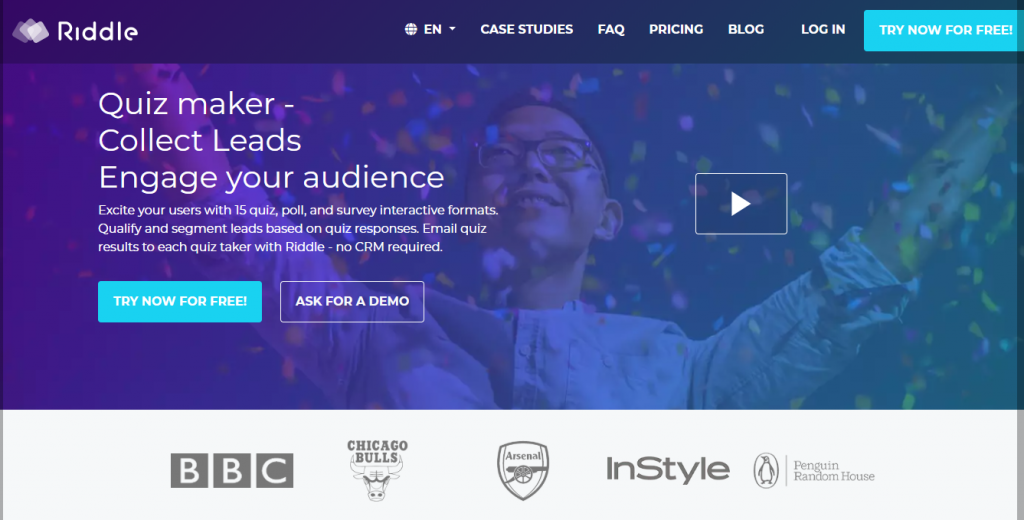 This is another excellent quiz maker, which is notable for its ease of use and its ability to capture e-mail addresses. It has integrations with software like Google Sheets, Mailchimp and AWeber and so it makes it easier to export the collected data, to one of these software, for analysis.
Riddle's Quizmaker is ideal for small businesses. One main feature is that this software gives you an embed code that allows you to embed quizzes into your website itself. This tool is also available as a WordPress plugin. You can customize the quizzes however you want. So, with you being able to control every aspect of this tool, it's definitely worth every penny.
6. Playbuzz:
Pricing: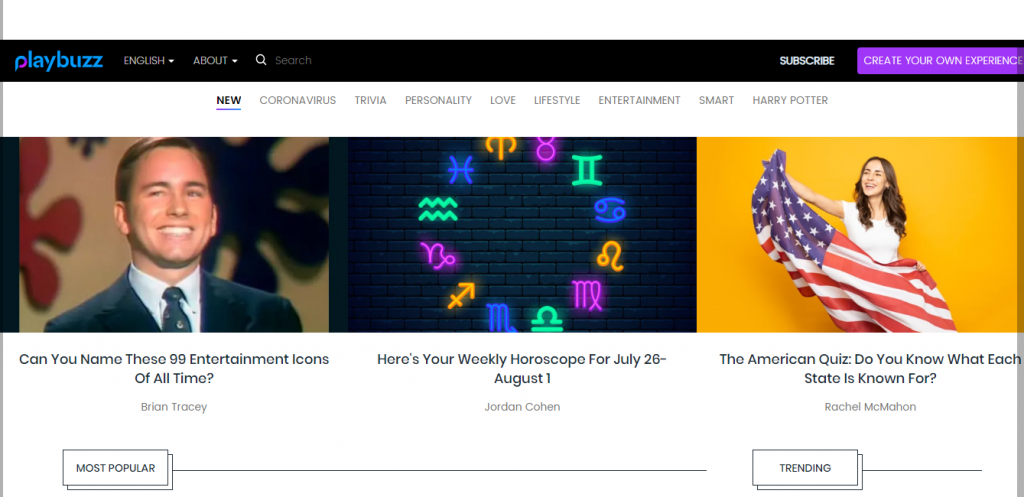 I'm sure Playbuzz is not something new to you. Everyone, everywhere, at one time or the other, has taken a Playbuzz quiz to find out your celebrity lookalike or what kind of a taco you are.
This is ideally the tool you need to start with, while creating a survey or quiz. Albeit being filled with ads, it gets the job done and would offer you an idea about how to go about creating a quiz for your audience.
The best feature is the ease with which the quizzes or surveys can be shared on social media platforms. This is essentially a beginner's tool and once you feel that you've understood the working of things, you can move over to premium paid tools that come with an ad-free and a more advanced and professional interface.
7. Wufoo:
Pricing:
Offers a free signup that allows you to create up to 5 forms
Starter pack at $14/ month
Professional pack at $29/ month
Advanced pack at $74/ month
Ultimate pack at $183/ month
Both annual and monthly billing options are available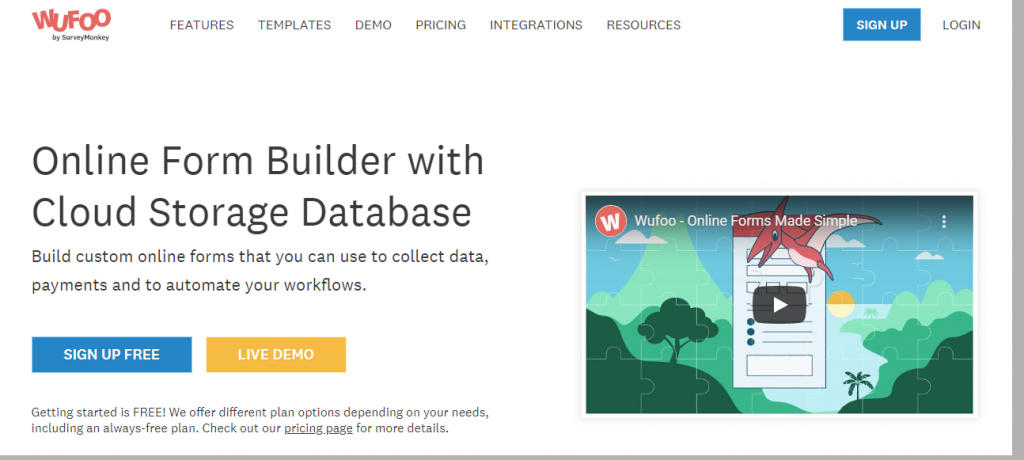 Wufoo is an outstanding quiz maker that offers very adverse features and options to its users. This is a highly professional and aesthetic cloud-based tool that is being utilized by some of the biggest businesses out there.
The most noteworthy feature here is its very advanced form-making logistics and ease of collection, storage and organization of data.
It is not a basic or a beginner's tool and requires a more experienced or professional hand to utilize all the features it offers. It even requires you to have knowledge on some basic coding. But you can still create even very basic form using this software.
The free version comes with a set of restrictions, however, the premium plans come reasonably priced and this tool is definitely a must for new or growing companies or businesses.
8. Ask Nicely:
Pricing:
Starts from $375/ month
Offers 3 plans: Customer Feedback, Front-Line Coaching and Custom Solutions
Features and integrations offered in each plan vary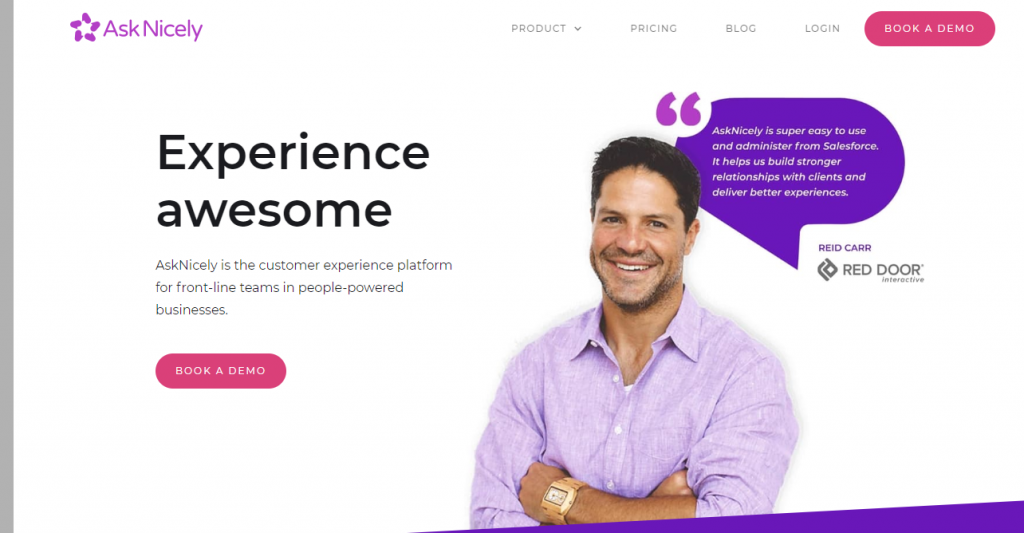 Ask Nicely is another premium quiz maker tool that lets you create both quizzes and surveys. Its main focus is on obtaining feedback from your customers to help improve your NPS (Net Promoter Score).
This tool has integrations with other software like HubSpot, Salesforce and Slack, which provides you with an automated customer follow-up and helps you improve your ratings and reviews on sites such as Google.
This software is not merely just a quiz maker, but an advanced tool for marketing, hence the steeper pricing. It is ideal for medium to large businesses that are mainly aiming for customer engagement.
9. Brandquiz:
Pricing:
The free sign-up allows up to 100 submissions/ month
Starter pack at $19/ month
Pro pack at $69/ month
Business pack at $159/ month
Both annual and monthly payment options are available, with the annual payment coming at a cheaper price than the monthly ones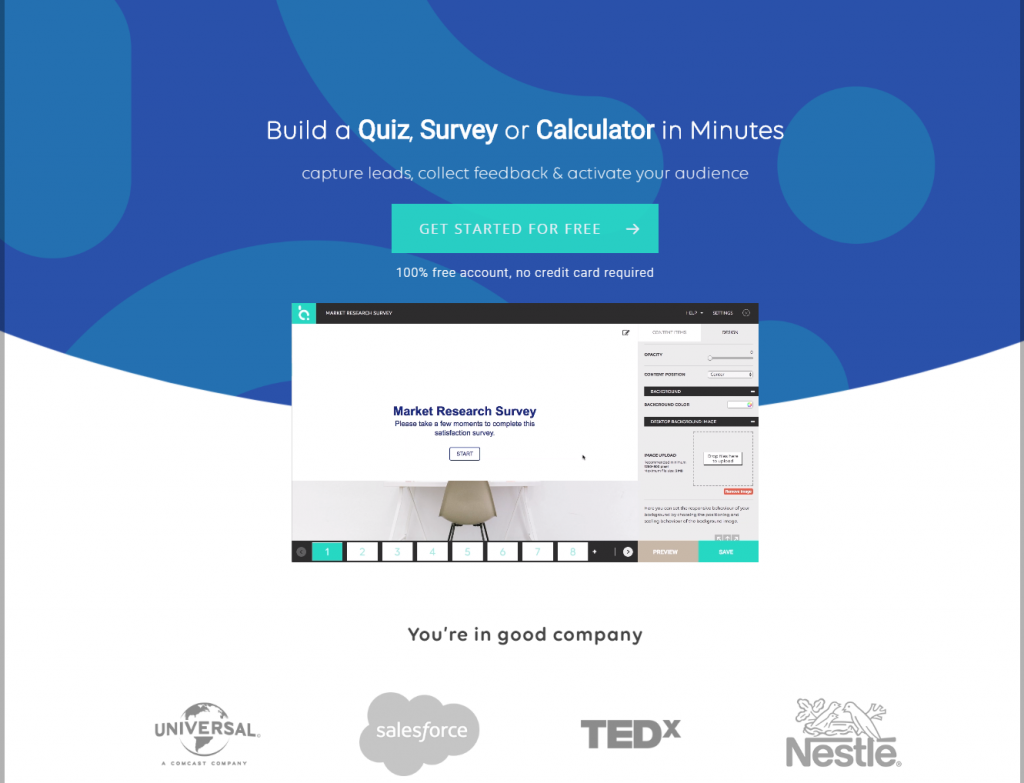 This software comes with very attractive features. It has a wide range of templates to choose from and allows for easy creation of quizzes or surveys.
It has integrations with software such as Salesforce, MailChimp and HubSpot, which allow for easier exportation of the collected data, and also its storage, organization and analysis.
Although the free version itself allows a pretty good amount of form submissions, it does have restrictions and the paid versions are the way to go if you're focused on growing your brand or business.
10. Form Crafts:
Pricing:
Free signup
Startup pack at $15/ month
Growth pack at $30/ month
Business pack at $75/ month
Enterprise pack at $195/ month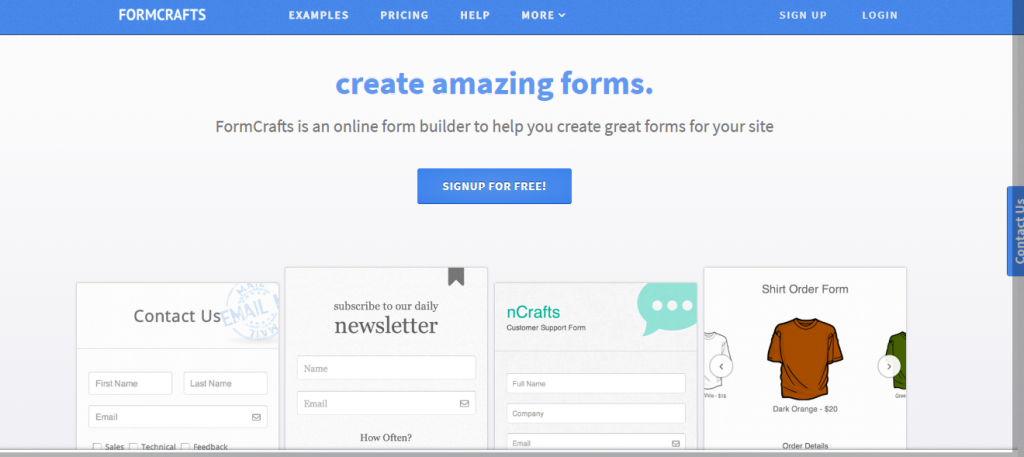 Form Crafts was originally created to design simple questionnaires, newsletters and sign-ups. But it can also be used to make quizzes, as it supports multi-page forms.
Each of its packs comes with an attractive set of features and it offers you a good number of submissions and form creations, for the price you pay. It also possesses an easy WordPress plugin that allows you to easily integrate your data with that software and makes for efficient data analysis.
It is definitely a great quiz maker software that is well-suited for growing businesses and companies and has a lot to offer the user.
Here is one more tool as Bonus
Pricing:
Offers a 30-day free trial
Two different pricing plans are available for businesses and educational institutions
Both these plans further offer two pricing options; a professional pack starting at $39.95/ month and a credit pack starting at $25/ month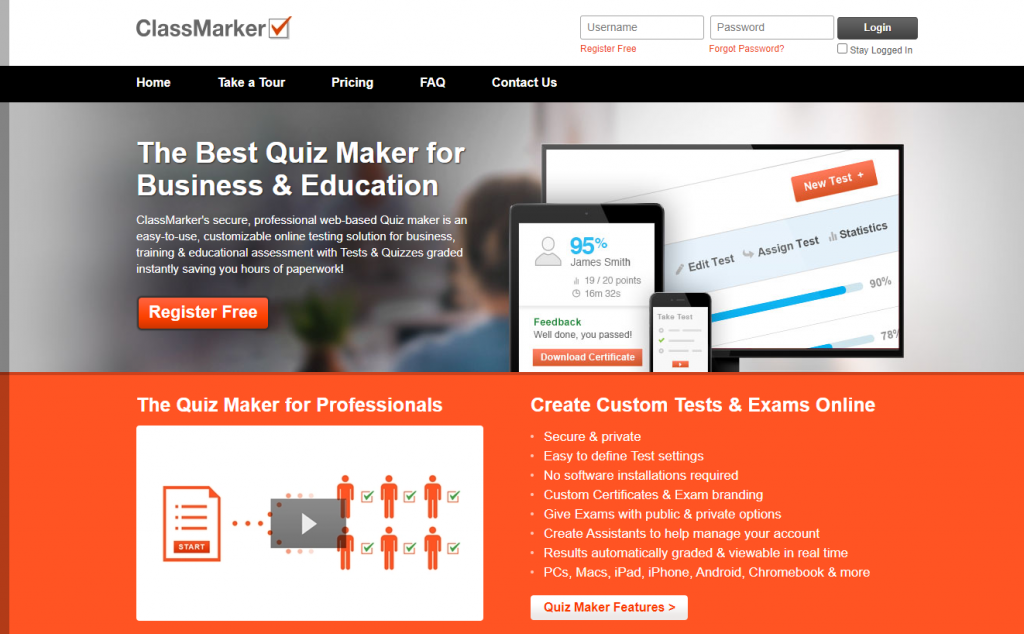 This is a quiz maker that was primarily designed and created for educational institutions and professionals, but went on to include custom plans for businesses too.
It allows you to create tests, exams or surveys online, and can be customized to your brand specifications. It even has the option of letting you include brand certificates.
It has a quite sophisticated platform to analyse the results in and arrive at a conclusion from the customer information collected. This tool is especially suited for large businesses or institutions that want to survey a considerable number of audiences. The pricing is however pretty steep, given its functionality.
Which is the quiz maker that would suit me?
Now that we're done with the list of the best quiz makers available, I'm sure this is the final question in your mind. This is, however, a decision that you need to make, as choosing the one that is right for you depends on your company, your goals and your target customer base.
There are quiz makers available in all the price ranges, starting from free to a negotiable price for extensive customization. They also vary in their functionality and features they offer.
If you're just looking for a simple or basic tool for a survey, go with one of the free or cheaper options mentioned. Whereas, if you are seriously looking to grow your business by conducting an extensive customer research, I would suggest that you invest in one of the more advanced and professional tools given in the list so that you get the best results.
The bottom line is, go for a quiz maker that is both useful and falls under your budget and allows for customization. The most important thing is the data analysis, so make sure to make a wise choice when it comes to selecting a quiz maker, as simply collecting the data alone will prove useless to you. You need a software that will also allow for easy compilation and analysis of the collected data. So, keeping all this in mind, I hope you find the quiz maker that suits your needs, best and would aid you in achieving your set goals and improving your business and your reach. Happy shopping!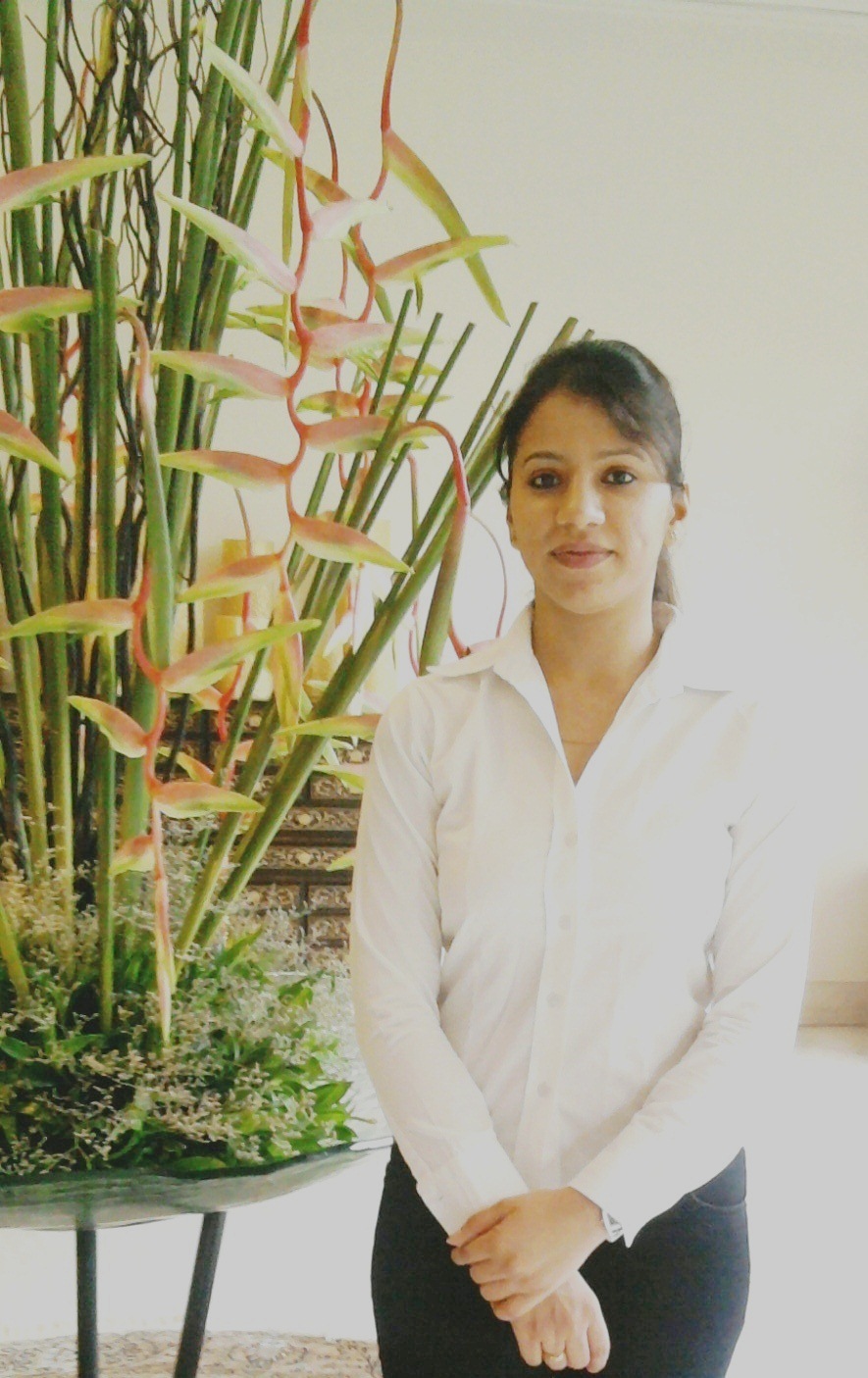 Latest posts by Nancy Kapoor
(see all)