If you are using Wi-Fi connection on your Samsung Galaxy S10 and facing Wi-Fi connection dropping issue then it could be a temporary and small issue.
It means you can easily solve this issue by yourself without going to the Samsung store or shop in the market.
All these types of networks issues are easily solved because these issues are not caused by the physical damage or failure of your Samsung S10 hardware
In this article, we will tell the complete process about how you can fix the Wi-Fi connection dropping issue of your Samsung Galaxy S10
Basically, you are using your Wi-Fi and it runs very perfectly but at the same time, it disconnects or dropping the signals.
As a result of this thing, you are not able to send or receive important messages because you need a Wi-Fi connection for this.
We will teach you how you can fix this type of issue, so read the complete article very carefully all the steps are given below
How to resolve Samsung Galaxy s10 Wi-Fi connection keeps dropping issue:
These types of issues will be solved with the following procedure:
Restart Your Router/Modem:
If you are facing the Wi-Fi connection issue then it is a possibility that this issue comes from your network equipment. So in this situation, the first solution is to restart your router/modem by the power-cycling process. If you don't know how to do this then follow all the given steps
From the wall outlet unplug your modem or router
Leave your modem or router for two or three minutes without power
Now reboot your Samsung Galaxy S10
After two or three minutes plug your router or modem
Connect the Wi-Fi connection from the notification panel or from the main settings
Use your phone to know the Wi-Fi connection is working properly or not. If still Wi-Fi connection keeps dropping then try the next solution
Force restarts your Samsung Galaxy S10:
After resetting the network devices, if you still have the same issue then you have to force restart your Samsung Galaxy S10. All the steps to do this are given below
Press and hold both buttons the volume down and power key
Hold both these buttons at the same time for 10 seconds
When a Samsung logo will appear on your screen then release the both buttons
After this, your Samsung Galaxy S10 will reboot
If still, you are facing the same issue then you have to move to the next solution
Reset Network Settings:
With the help of this procedure, you can easily fix the Wi-Fi connection dropping issue. We already checked that this issue is not by the router, so it's time to troubleshoot your Samsung Galaxy S10. If you are going to apply this then the following changes will be done
All the stored Wi-Fi networks will be deleted
All paired Bluetooth devices will be deleted
Sync settings of background data will be turned on
Data restrictive settings in all applications will be reset to its default settings
Network selection mode will be reset to automatic
All the steps to reset your network are given below
Turn on the display and got to the settings of your Samsung Galaxy S10
After this go to the General Management option
Here click on the Reset option and then Reset Network settings
Tap on the Reset Settings
Enter the pin or pattern
After this click on the Reset Settings
When the reset process is complete then the confirmation window will be shown
Read Also-: Top tips to boost your Content Marketing
After this go to the Wi-Fi settings and let your Samsung Galaxy S10 search the available Wi-Fi hotspots.
Connect your Wi-Fi connection and use your Samsung Galaxy S10 for some time to confirm that Wi-Fi is working properly. If this process is not working then you have to do a factory reset.
Perform the Master Reset on your device:
After doing all the above-given processes still, you are facing the Wi-Fi connection dropping issue on your Samsung Galaxy S10 then you don't have any other choice to do the factory reset. Basically, there are other problems also solved with the help of a factory reset. 
So first, you have to create a backup of your all-important data and then delete all your Samsung and Google accounts to make sure that your Samsung Galaxy S10 won't crash after the factory reset. All the steps to do master reset are given below
First, turn off your Samsung Galaxy S10
Press and hold the Bixby key and the volume up key, also press and hold the power button
After press and hold all the buttons for a few seconds, the green logo will appear on your screen then release all the keys
This thing will boot your Samsung Galaxy S10 to the Android Recovery Screen
Note: wait for the 15 seconds to completely appear the recovery screen
Now press the volume down key for the several times to highlight the Wipe data/factory reset option
To select this option press the power button
Now press the volume down button and highlight the Yes option
To continue the master reset process press the power button of your Samsung Galaxy S10
When the factory reset is completed then the option Reboot system now is highlighted
To restart your Samsung Galaxy S10 press the power button
After doing the factory reset your phone will be new and all the third-party apps aren't installed.
Before installing the third party application connect your Wi-Fi and use other things on the internet to check that the Wi-Fi connection is working properly or not.
If the Wi-Fi connection is still creating the dropping issue then you have to go to the Samsung store or go to the shop.
I hope you understand all the processes and we have been able to fix the Wi-Fi connection of your Samsung Galaxy S10 with all the above-given steps. If you have any question related to this then ask us in the comment section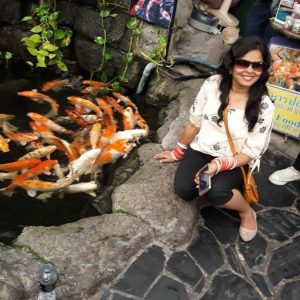 Latest posts by Monica Kumari
(see all)