Content marketing is the heart of digital marketing campaigns. And why not? From improving your online reputation to bringing in new leads to your business, content marketing has the right potential to set you apart from your competitors. You need to implement the best practices to achieve long-term success in content marketing. Here is a list of the top ten techniques that will boost your content marketing strategy easily.
1. Focus on evergreen contents
Evergreen contents are always relevant and aren't associated with a specific period. Say you write this content in 2020 and people can still relate to it in 2035. Evergreen contents are usually informative and comprehensive. The topic should have a real value and it needs to be something that users search for on Google.
Importance:
Fetches higher search engine rankings
Generates quality leads over time
Brings in organic traffic to your website
Say you offer online architecture dissertation to students from all over the world. Thus, the right topics of evergreen content for your niche of business would be something like 'How to write a psychology dissertation ?' or 'List of 7 tips to beat assignment deadlines.'
2. Repurpose your content
It takes a lot of time and skill to come up with the best content. Wouldn't it be even better if you could get a greater return of investment from your best contents? You can do so by repurposing your contents from one format into several.
Importance:
Saves you the time involved in the content creation process
Generates additional opportunities to target the desired keyword
Helps you reach a new audience through different channels
Say you published a blog titled 'How to buy the best car for your family?' Did it resonate with your readers strongly? Did it provide your audience with something they won't find somewhere else? You can try turning it into a downloadable guide to make it easier for your readers to gain access to the content.
3. Optimise your content for search engines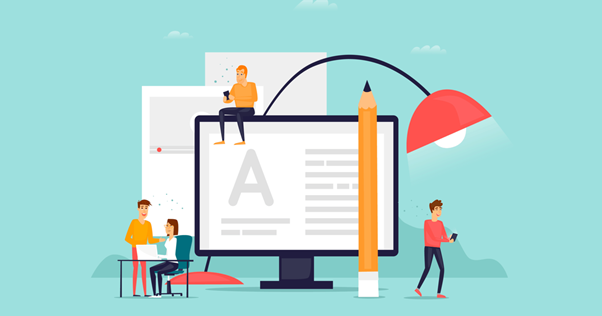 You should always write for your target audience AND search engines. If you write contents keeping only your audience's requirements in mind without considering the search engine algorithm, you may end up publishing contents that nobody reads.
Importance:
Boosts your website's search engine rankings
Encourages strategic usage of keywords and relevant search terms
Helps small or medium-sized businesses gain social validation online
Research the right keywords relevant to your nature of business. Use them in the title, meta tags and within your contents. Finally, use texts to accompany your non-text contents. So if you are running a podcast, include a short description and even a text transcript to let your users and search engines know what the audio is about.
4. Try out different forms of contents.
All contents needn't embrace a blogging format, and not all marketers are bloggers. At times, simple and straightforward infographics can serve your purpose. There are multiple types of content like long-form contents, case studies, ebooks, etc. you can try apart from blogging to attract the attention of your potential customers.
Importance:
Helps you engage with your target audience
Connects with your users at different points of the digital sales funnel
Leads to higher conversion rates and better SEO results
You can choose the right format, depending on the purpose of your content. For example, you can start a podcast if you want to share audio about the new music company you have collaborated with. Similarly, you can start a YouTube channel if you want to conduct online teaching.
5. Categorise your audience to boost engagement
Say you have 1000 potential customers. Now each of them will have separate requirements and product needs. Some may need answers to their queries while others may want to buy your products. So you need to segment your audiences to develop the right content for each segment.
Importance:
Presents special customised solutions for the specific needs of your customers
Tailors your message specifically to resonate with your segmented audience
Builds a relationship with your customers thereby helping you earn their loyalty
Research the keywords related to your nature of the business to discover what your ideal customer is looking for. Also, run A/B tests consistently to identify the individual needs of your target customers. According to a research study, conversion rates increase by 1% to 3% after consistent A/B testing.
Read More: Best Homework writers Online
6. Use only relevant topics
Say you run a tech business and you have posted a blog about cooking on your website. You won't get relevant traffic from that, will you? Thus, it is always crucial for marketers to publish content that is strongly related to your area of expertise and niche.
Importance:
Improves how well your content works with targeted keywords
Signals to Google that your brand is an authority in your industry
Uncovers new opportunities to drive traffic to your website
Many marketers believe that SEO and content marketing are completely different strategies. But, on the contrary, SEO and content marketing are very much interconnected. Topic relevance is an integral part of search engine optimisation. The more relevant your topic is, the higher the chances are that your website will correspond to a search query on Google.
7. Create pinnable infographics
Pinterest consists of over 335 million users and 80% of them are women. On the other hand, infographics can increase your website traffic by at least 12%. Combine both of them and nothing is stopping you from boosting your content marketing strategies. Infographics are a clear, artistic and effective way of getting your message across without losing the attention of your potential customers.
Importance:
Catches the attention of your targeted audience easily
Makes it easier to share countless data, statistics and boring details interestingly
Makes complicated information more understandable
Did you know that our brains can process images 60,000 faster than texts? It is also estimated that nearly 65% of people are visual learners. Thus, use an infographic if you need to display survey data, simplify a complicated idea, compare two ideas or simply to raise awareness.
8. Publish contents consistently
Say you publish relevant content for your website on 7th March 2020 and the next content you publish is on 19th December 2020. What if your competitors publish more relatable contents between this time-gap? You would end up losing your potential customers, wouldn't you? So it is crucial to keep a consistent publishing schedule for your contents to hold the attention of your target clients as long as you are in business.
Importance:
Builds authority and trust
Generates quality and quantity leads
Drives quality traffic to your website
According to Forrester, consistent contents are a key driver of brand trust. A study by McKinsey & Company reported that consistent customer experience increases their satisfaction levels and boosts loyalty. Research by Techipedia suggested that brands which publish consistent contents are worth 20% more than those that aren't.
9. Format your contents properly
Let's say you plan to read an article about 'The effects of Global Warming' on a website. As soon as you open the page, you can't figure out the introduction, body paragraphs and the conclusion of the content. The subheadings aren't bold, so you don't even understand if a new paragraph has begun. All in all, great content is important. But, the format of your content is mandatory.
Importance:
Increases the readability of your content
Makes it easier for your audience to navigate through the page
Persuades the readers to perform the action you want to them to perform
Put yourself in your reader's shoes and think if your content is interesting enough for your targeted audience. Use shorter paragraphs, italics, headings, appropriate font size, bold, etc. It is even better if you could combine different types of content with such as texts, images and videos.
10. Add external and internal links
Internal and external linking are significant parts of content SEO. Internal linking lets you link to other pages of your website. External linking lets you link out to other high-quality websites or sources. You should try not to overdo with external links since that can bring down the quality of your website.
Importance of internal links:
Helps Google understand the context of your content better
Gives one more reason for search crawlers to index more pages from your website
Lets crawlers understand what the linked page is about
Importance of external links
Increases the trustworthiness and credibility of your website
Boosts your SERP rankings
Internal linking is about linking within the pages of your website. There aren't many rules regarding it. However, external linking involves linking to another website for quality backlinks. So make sure the website you link to is a reliable and relevant one, so Google understands what your page is about.
These ten tips are enough to boost your content marketing strategies. Remember, there are probably thousands of marketers out there planning out content marketing strategies for their respective businesses. Implement these tips in your strategy to get ahead of the curve and drive quality traffic to your website.
Latest posts by Peter Clark
(see all)