Plagiarism has been discouraged for years, yet many fail to take the offense seriously. Plagiarism is an act of stealing the original author's work, reproducing it, and republishing it as their content. Plagiarists can steal words, ideas, thoughts, expressions, and much more. Whatever the form of copying is, plagiarism is a wrongful act that should be avoided at all costs.
When you violate someone's copyright-protected work without their consent, you invite severe consequences for yourself, depending from situation to situation. For instance, an online marketer or a blogger has to produce tons of content as a marketing tactic. Content marketing strategy is one way of enhancing the site's visibility and boosting the traffic. Hiring a team of writers to produce fresh content regularly can cause a financial burden on the business, and this is where they indulge in the crime of stealing content. Search engines, with their advanced technology, play their part by identifying such websites and delisting them from search engine results. This punishment can come as a blow to business owners who compete in ranking themselves on top of the result's list.
Similarly, students who represent someone's original work as their own comes under academic dishonesty. A student caught with plagiarized content may fail his exams, get suspended, or be expelled from the university in case of repeated offense.
A reliable online plagiarism checker can save you from all this dilemma. These are highly useful tools that detect your work and raise any red flags when plagiarism is found. Hence, it is recommended to always pass your content through a plagiarism checker before publishing or submitting it as an academic assignment. You will be saved from any possible allegations.
Features of The Topmost Workable Plagiarism Checker
In today's era, you can find streams of information on the internet at the click of a mouse. Fortunately, we have an entire array of plagiarism checkers online to help you eliminate duplicate content. But not all these tools can be trusted. These companies claim to offer efficient plagiarism checking services but may not be as good as their words. What are some of the standard features you should look for to find the best plagiarism checker? Lets' have a look.
Safe to Use
Finding a plagiarism checker that offers you exceptional scanning services does not mean it's safe to use. Some tools violate your data, which may lead to information leakage. If you want to scan a highly confidential data, then you may be at risk. Hence, always read the fine prints before starting to use any tool.
Reliable Software
The results of any plagiarism checker may not always be secure. Some tools even fail to detect the most straightforward Wikipedia article. Try to run a couple of tests on the program before you actually start using it for your data.
Fast Running Tool
When the assignments keep coming, time becomes valuable. You cannot rely on a program that consumes an entire day to scan a few pages. Look for a plagiarism checker that operates fast, produces instant results, and examines the right amount of words at a time.
Multiple Sources to Check Against
A plagiarism checker that scans through numerous sources tends to provide better results. Say, you have generated tons of content on the same topic. Now there is a high probability of repeating your own text unintentionally since you run out of enough ideas and words. A reliable plagiarism checker should match your content against external sources as well as the stored data that you have run previously and have not yet been published.
Top Plagiarism Checkers
Writing is a crucial part of online marketers, professionals, and students. Hence, one should always have access to a reliable plagiarism checker for all their writing and scanning needs. With the plethora of options available in the market, it gets challenging to choose the best one. We have compiled the most reliable free plagiarism software that gives you high success rates.
Plagiarism Software
Plagiarism software uses deep search technology to provide an in-depth scanning check. If you wish to exclude a particular website from the scan results, you may add the page's link in the "exclude URL" box. Plagiarism software is straightforward to use, and the website, www.plagiarismsoftware.net, is compatible with all types of browsers.
Duplichecker
Duplichecker is a web-based tool that offers unlimited checks free of cost to all its users. Without registering, you can start using the software as and when required. Hence you can use it anytime, from any part of the world. The tool identifies copied content within minutes and produces instant results. You will be surprised at the speed this tool operates.
Quetext
Quetext is another great tool with an extremely easy to use interface. It's a clean website with no ads. Hence all those who get easily distracted by popping messages, flashing pictures, and numbers would love this tool. The company boasts of having helped over 5 million users.
Conclusion
You may not want to tarnish your reputation by submitting content with duplicate text even after being checked through a plagiarism checker. Most websites claim to offer the best scanning experience but miserably fail to meet the expectations. You can depend on these tools as the inventors of the software have years of expertise and knowledge.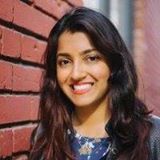 Latest posts by Neha Malkani
(see all)