Nowadays, there is no other way than online to provide great customer services and the best user experience.
In this digitized world, all customers favor searching online rather than the traditional way of calling. Getting replies prompt is all that is required.
It does not matter which question is required to get searched, the online website and Google is the only preferable spot to search. More than half of the percentage found it easier to search than talking or calling.
There are many forms of online supports; that integrate the product documentation, forums, and FAQs. Because of its convenient approach, users consider social media websites and online chats to perceive their requirements.
So, does your business website have a live chat option?
If not, then you should get it as soon as possible!!
Integrating the online live chat option on the WordPress website is not just a handy way to manage the customers but also the best way to make them interested in your website. It surely improves the customer satisfaction rate and customer retention rate at the same time.
We all are aware of the WordPress popularity that surely is because of the features and functionalities it has in its pocket. Because of its versatile and robust nature, the live chat feature came as a reliable source to fulfill the customer in real-time.
WordPress's highly-functional live chat plugins allow every business and brand to offer customer service without hiring the dedicated WordPress developer. It surely will save a lot of money, even though, improves the customer engagement rate and proffers leads.
Live chat can offer exceptional customer service by solving their queries in less time. It, therefore, helps your business to experience more conversions, reduce buyer friction, and present assured human presence until customers do not pull out their wallets.
Best WordPress Live Chat Plugin you Must Have
1. WP Live Chat Support
This is a free WordPress Live-chat plugin which is excellent for businesses of every scale. Even though it focuses more on the small scale businesses, the highly scaled features it integrates is worth a try. WP Live Chat Support covers rn6 predefined live chatbox themes that you can choose as per your requirements. Also, it has many options for infinite synchronous live chats.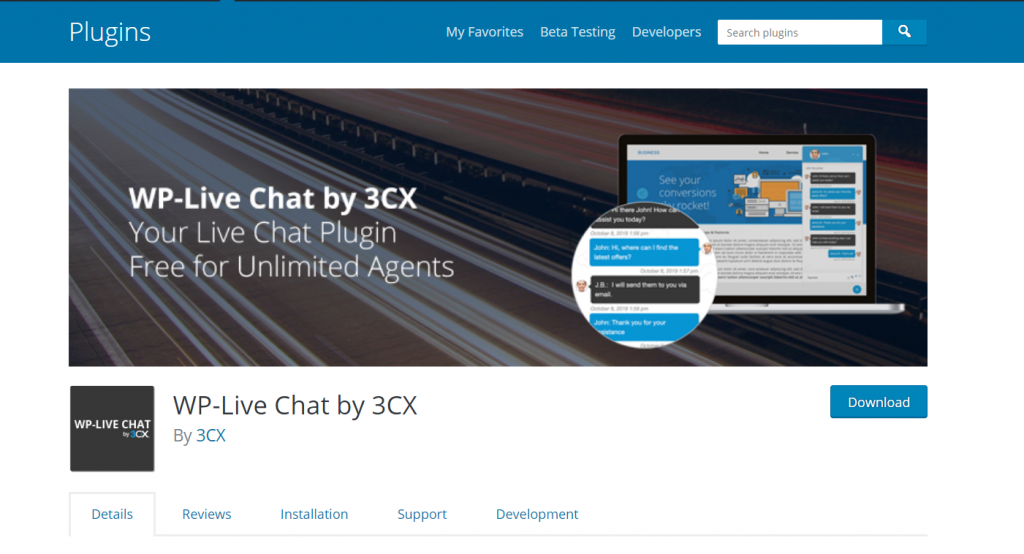 WP Live Chat Support Main Features
Chat from within the WordPress dashboard
Right to practice hosted server or keep things on the server
Infinite agents
Start chats with visitors
"Sneak peek" feature message
Easy editing of messages
File uploads
Analytics and Reports
Feedback surveys/Chat ratings
Translation plugins compatibility for a multilingual experience.
Option for users anonymity
2. LiveChat
LiveChat is a perfectly designed live chat plugin that can be set up easily. It is combined with several additional services such as; Zendesk, Google Analytics, leading email marketing services, easily accessible CRM tools, etc.
It is one of the best mobile-responsive plugins that allow you and the support and maintenance team to interact with the customers anytime and from anywhere from any of the handheld devices. The LiveChat plugin offers the best user experience with the extended speed.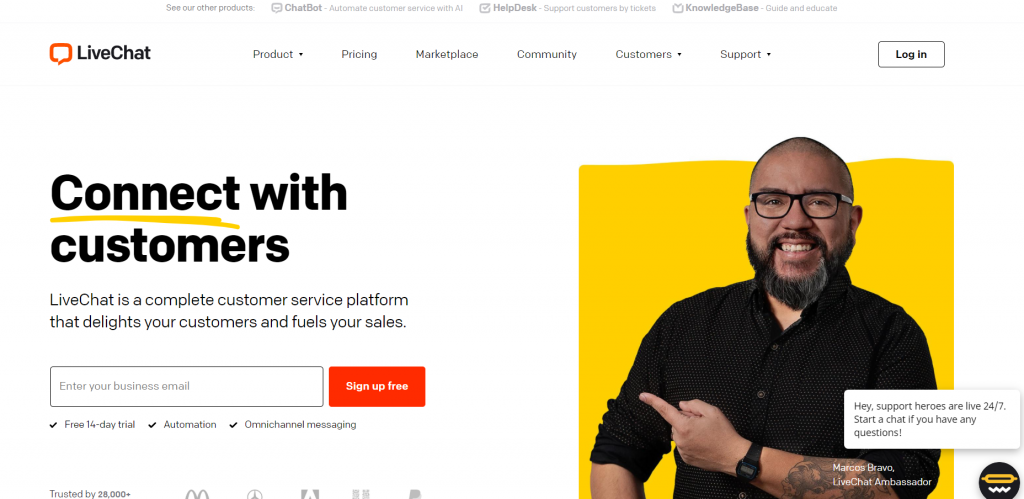 LiveChat Main Features
Excellent design in the interface, with the chat widgets
Customize the colors/looks of the chatbox
Chat from desktop/mobile or web app apps on every major platform
Automation, encompassing triggers and automatic greetings
Canned responses
Message sneak-peek to understand what the customer is about to ask before they hit send
File sharing
Visitor analytics and tracking
Display chat feedback after the chat
3. Olark
Olark allows you to choose whether to install using a plug-in or to use the simple code snippet. No matter which option you choose, this live chat option is easily accessible and combines with additional services (such as Zendesk, Salesforce, Slack, Google Analytics, Highrise, etc.).
Using third-party mobile apps, you can link to Olark live chat from any Android or iOS device, enabling you to interact with customers. It also allows you to watch real-time visitors on the website, so you can actively contact them.
Also, you can notice real-time reports on the volume of chats, learn which agents manage the most chats, and how the visitors rate their involvement.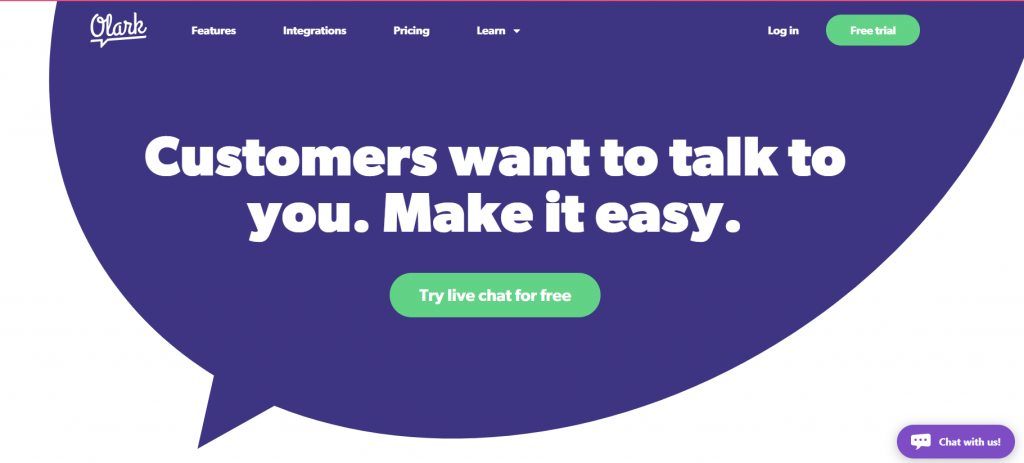 Olark Main Features
RM Integration with Highrise, Salesforce, Nutshell, and other CRMs.
Chat reports to track the operator responsiveness, chat frequency, and customer satisfaction.
Grouping of the operators by either the sales team or the support team.
Set rules to show and hide the chatbox, distribute chats to particular departments, and send messages automatically.
Helpdesk integration with Desk.com, Groove, Zendesk, etc.
Find out what visitors hold in their shopping carts to provide more knowledgeable answers and assures sales faster
Searching the overall chat history is probable with complete transcripts of all talks.
White label feature
4. Tidio Live Chat
This plugin allows you to commence a conversation. To start the interaction, click on the "Tidio" tab immediately after installation to view the chatbox. After making some settings, you can begin communicating with your visitors. The plugin provides three designs and enables you to modify the color scheme.
The unified widget encourages multiple languages, so you can communicate with visitors in your language. The widget must have two positions-the lower right corner and the lower-left corner. You can pick any amount of agents to manage the conversation, and all agents can have their particular avatar.
If you are offline, you can refresh the request and acknowledge visitors to give an email ID to get a reply. Receive emails for all chats and build contact with potential customers.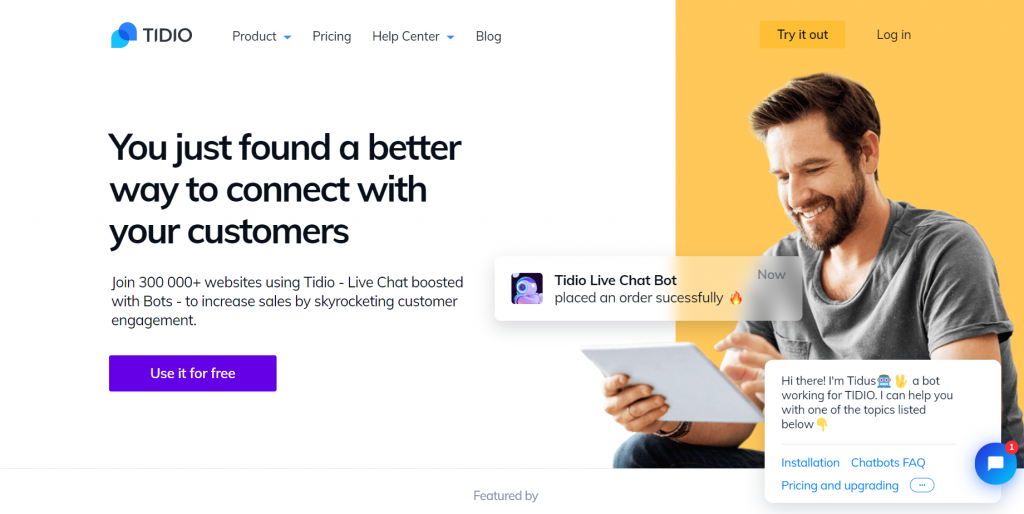 Tidio Live Chat Main Features
2 creative and Unique live chat design.
Possibility to send emails to the users.
Translation and Multilingual ready.
Choices to observe the users who visit the website.
Chatbox colors Customization
Excellent design for the chatbox and dashboard
Combination with leading plugins such as SalesForce, and MailChimp, etc.
Chat from the mobile apps and web dashboard
5. Zendesk Chat
Particularly termed as Zopim, this plugin is the live chat solution from the current knowledge base/helpdesk service of a similar name.
Individually, it is the chatbox styling that looks perfect particularly related to outstanding other tools on this list. On the other hand, it has exceptional features with the enclosed free plan that you can leverage.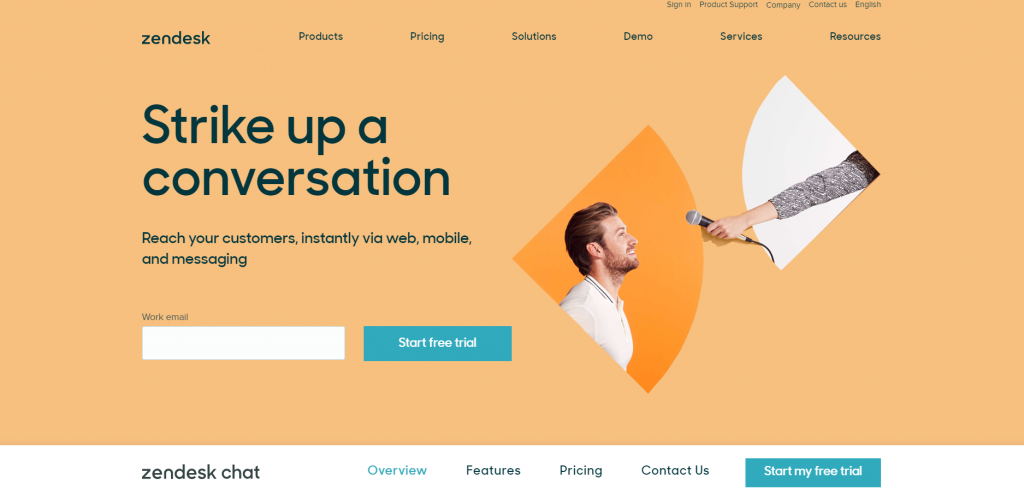 Zendesk Chat Main Features
Automatic triggers to retain customers
Chat from native mobile apps or web dashboard
Chat analytics, with measures such as "wait time"
Chat routing for sending messages to several agents with some guidelines
Chatbox Customization
Blends with social media and ticketing for omnichannel support
Chat ratings or feedback
Visitor tracking
Automatic chat translation
Wrapping Up
Here, in this article, we have mentioned the leading Live chat WordPress plugins. All these plugins can be used as per your website requirement. We assure you will get the thriving results.
Hopefully, this write-up is knowledgeable for you. If you have some queries related then share it with us. Suggestions are also welcome. Thanks for reading!!
Latest posts by Marie Thomas
(see all)