Why Transfer Files from One Cloud to Another?
Nowadays, cloud storage has become the top priority for people to store data. Whether you are an incumbent or a freelancer, we always prefer to use cloud to store our documents, projects, movies, photos, etc. because cloud provides much convenience for people. No matter where you are, as long as your location has a network connection, then you can get the data you need for the first time.
Although storing data in cloud accounts provides people with convenience, many clouds have certain restrictions on space, especially for the free space they provide. Especially when the free space in a cloud is about to be used up, but you don't want to upgrade your free cloud account to a subscription account, you have to find a new cloud with more free space to store these data.
How to Transfer from One Cloud to Another?
Fortunately, there are still many cloud storage providers who are very generous in providing free space, such as Baidu cloud, MEGA, Degoo, Box, Google Drive, etc. But there is a problem on how to move files between cloud storage?
What we can usually think of is to use the "Upload" and "Download" functions. Indeed, this function can meet the needs of most people. But the prerequisite is to ensure that the data volume is not particularly large and the network connection is good, otherwise, it will take a lot of time to use this method. So is there any other more effective method?
Luckily, here MultCloud, a free online cloud file transfer manager service, is recommended to help transfer files from one cloud to another without downloading and uploading, logging in and out, switching accounts, etc. Here MultCloud will guide you on how to achieve Box to Google Drive migration directly.
How to Migrate from Box to Google Drive with MultCloud?
MultCloud, as a FREE web-based cloud transfer manager tool, it can not only help manage several cloud accounts in one place with one login; but also can help transfer, backup or sync files across cloud accounts directly with lightning-fast transfer speed. It has the following powerful features that you cannot miss:
All-in One Multiple Cloud Storage Manager
Integrate all your cloud storage services in one place to transfer, copy or sync from one cloud to another cloud in batch without downloading and uploading, switching accounts, logging in and out, etc.
Multiple Sync Ways to Escort Your Data Safer
Currently, MultCloud supports One-way sync and Two-way sync. You can choose these sync modes according to your needs. With the help of these sync ways, you no longer have to worry about the security of your data.
Automatic Transfer Makes your Transfer More Convenient
MultCloud enable you to achieve automatic cloud to cloud transfer/sync at a regular basis, which you no longer have to waste time to perform tasks manually.
It currently supports more than 30+ leading clouds, including Google Drive, G Suite, OneDrive, OneDrive for Business, Dropbox, Dropbox for Business, pCloud, Baidu, Mega, etc.
Step 1. Create one account with MultCloud. If you do not want to register it, you could log in directly with your Facebook or Google+ account. After logging in MultCloud successfully, you will get one temp account with 30 GB free data traffic to transfer files.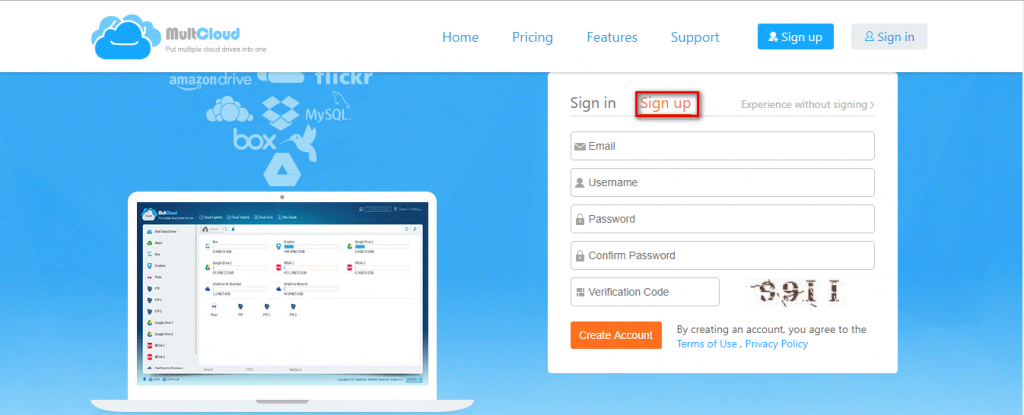 Step 2. Add your Box and Google Drive accounts to MultCloud. Click on "Add Clouds" button, select Box from the listed clouds below to add, authorize MultCloud to get access to your Box account and follow the instructions to finish adding Box account to MultCloud.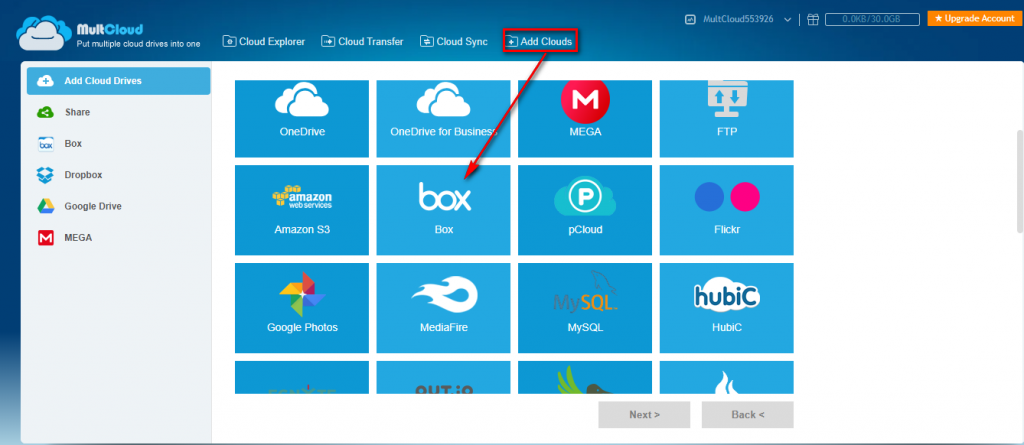 Step 3. Follow the same way to add your Google Drive account to MultCloud and later you will find both Box and Google Drive accounts have been added to MultCloud.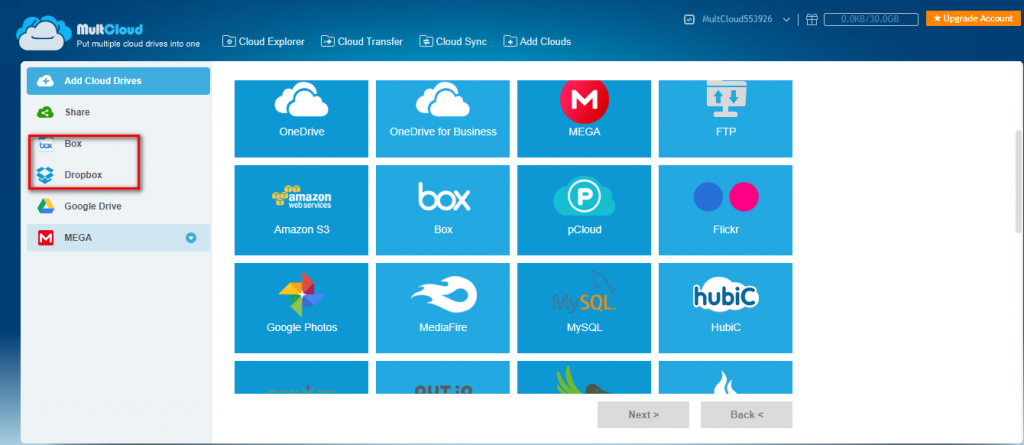 MultCloud currently does not have any limit to the number of clouds to add. If you have more than one Box and Google Drive accounts, you can add them all to MultCloud for managing, which will make your cloud management more efficient.
Step 4. Click on "Cloud Transfer" button, select folders you want to transfer under Box as the source, select destination path under Google Drive as the target, click on "Transfer Now" button and you will see the task will start.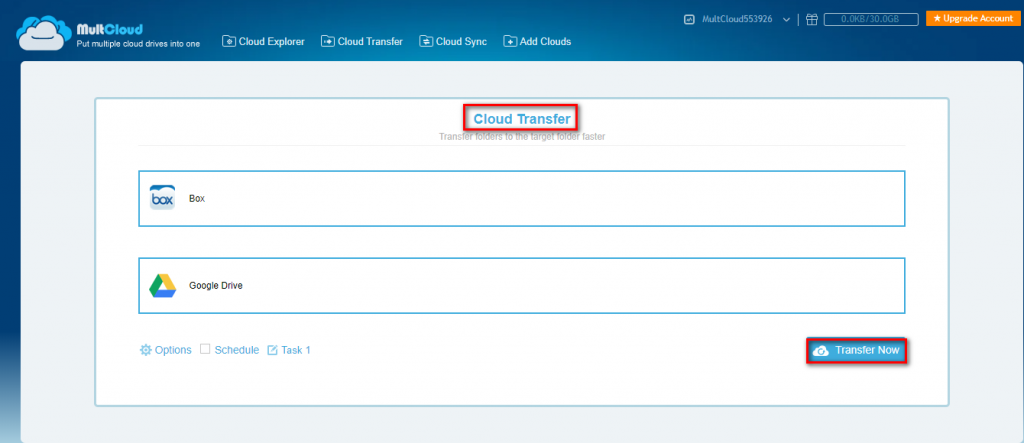 It's worth noting that "Cloud Transfer" does not support transfer single files. If you only want to transfer some files from your Box account to your MEGA account, it's recommended you could use "Copy" and "Paste" functions through "CloudExplorer". Besides, you are allowed to close the page and even close your PC because MultCloud can process your task in the background.
Conclusion
As you can see, it's super easy to transfer files from Box to Google Drive with the help of MultCloud. MultCloud also has "CloudSync" except "Cloud Transfer". For "Cloud Sync", it's a new function which is designed for users who need always to sync files between clouds. There are one-way and two-way sync modes to use. If you want to move photos from Flickr to Google Photos, you could use "Move Sync" mode in "Cloud Sync". For now, the disadvantage of MultCloud is that there is no desktop or mobile phone. In addition, two-factor authentication is not supported. Overall, it is almost perfect.