To fix many issues related to hard drive & partitions, like free disk space not enough, you can resort to a useful and reliable partition software, AOMEI Partition Assistant Standard.
Preface
Generally, users choose Windows built-in tools: Disk Management and Diskpart to manage internal/ external hard drive partition. You can use them to complete many operations, like enlarging NTFS partition if there is unallocated space contiguously behind the partition that you need to extend, creating primary partition on unallocated space, changing drive letter and so on.
However, there are some occasions where the two utilities are unable to helpful, such as increasing partition size with non-adjacent unallocated space, changing the file system of large drive beyond 32GB to FAT32, resizing FAT32 partition, etc.
Resort to a Charming Partition Manager
Now, it's a wise choice to employ a 3rd party partition freeware, AOMEI Partition Assistant Standard. It is capable of managing partition on internal, external hard drive, USB flash drive, etc. conveniently and effectively under Windows PCs.
Featured with "Create Partition, Resize/Move Partitions", "Merge Partitions", "Delete/Wipe Partition", "Format Partition", "Copy Partition to Another Drive", "Clone Disk", Hide/Unhide Partition, "Rebuild MBR",etc., it can help you to solving partitioning problems without any effort in Windows 10/8.1/8/7, XP and Vista. Some common situations will be illustrated in the following context:
System partition is full and you fail to extend it as the unallocated space after you shrink partition is behind the shrunk partition rather than system partition. At this time, you can use "Merge Partitions" feature, built in the partition software to merge the unallocated space into the system partition.
You need to format your 64GB external drive to FAT32 to make the drive have better compatibility, but you don't see FAT32 option while you right click it and choose "Format" in Disk Management. Don't worry, you can use the partition software.
With 3TB large external hard drive connected to PC, but you can use only 2TB. In order to avoid waste disk space, it's necessary to convert the MBR disk to GPT. However, the option of Convert to GPT Disk won't work if the large external hard drive is not empty. At this point, the partition manager enables you to change the disk's partition style without deleting partitions on the disk.
Detailed Steps on Resizing/ Formatting/ Partition and Changing Partition Style
To enlarge system partition with non-contiguous unallocated space on the internal hard drive, to change 64GB or larger drive's file system to FAT32, or to convert a big external hard drive to GPT, free download the partition manager, install and run it. Then, have a look at those tutorials:
Tutorial 1. Use "Merge Partitions" Function to Extend C Drive with Non-contiguous Unallocated Space
Step 1. In the home interface, right click C drive and choose "Merge Partitions".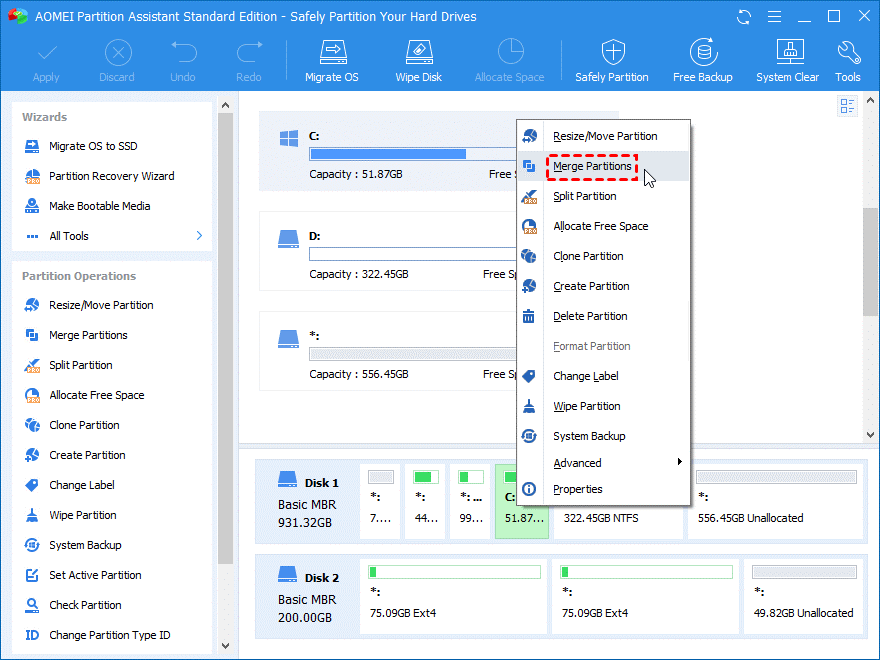 Step 2. Tick the unallocated space and click "OK".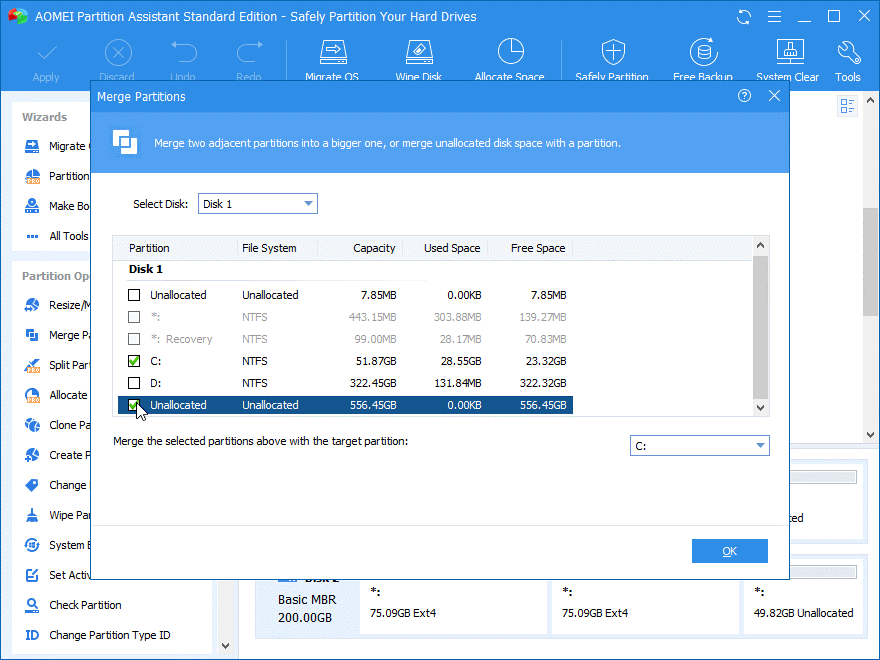 Step 3. Here you can preview the result. Click "Apply" and "Proceed" to commit it.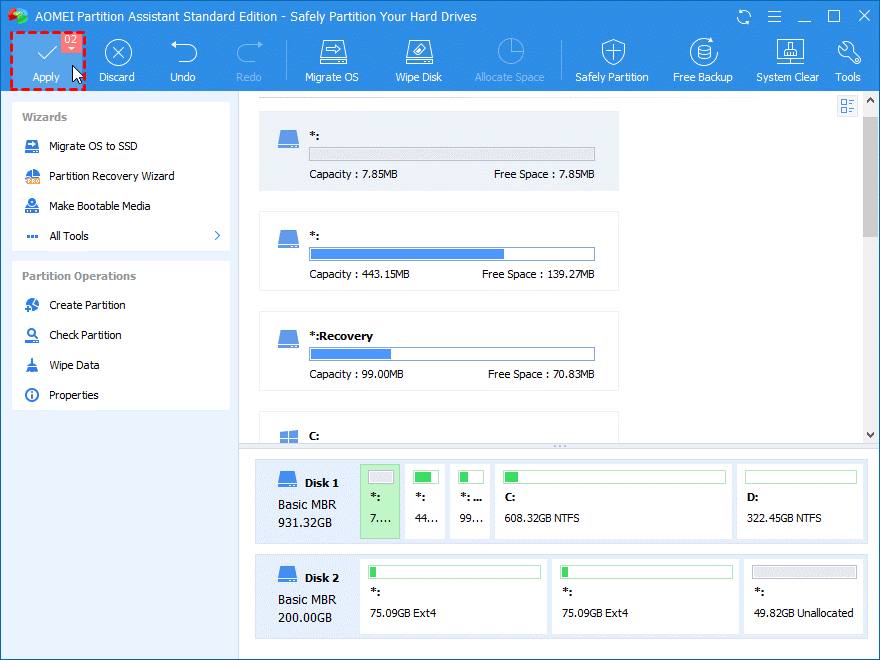 Tutorial 2. Use "Format Partition" Function to Format 64GB or Larger Partition to FAT32
Step 1. Find out the partition whose file system needs changing, choose "Format Partition".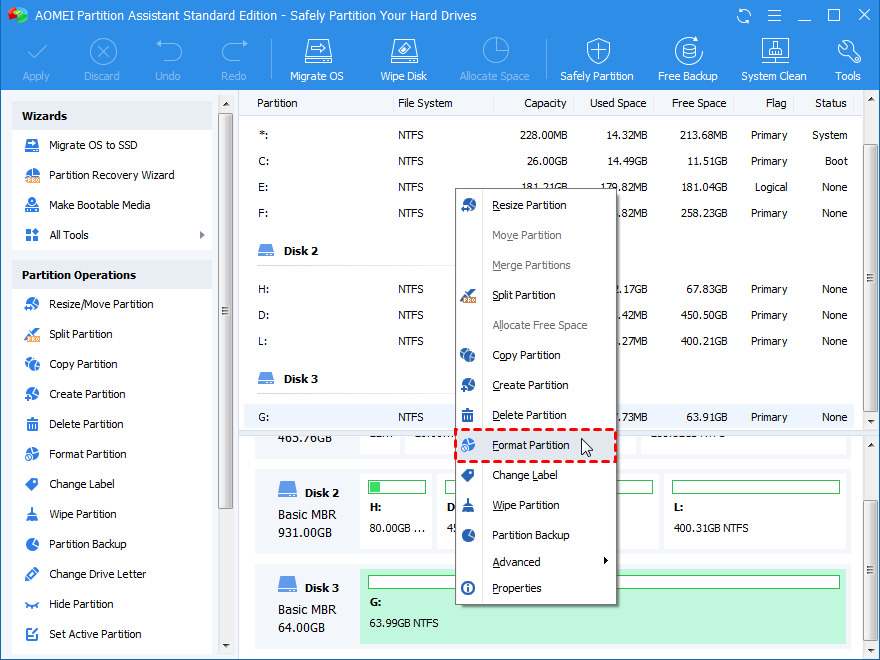 Step 2. In this window, choose FAT32 as its file system. You can also change the partition's cluster size and add partition label to it.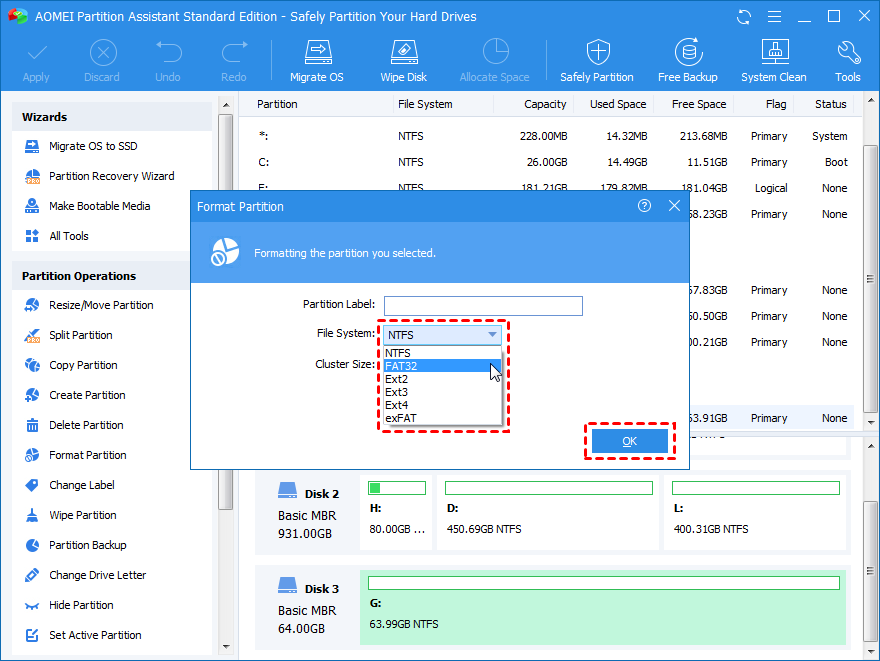 Step 3. Click "Apply" and "Proceed" to execute the task.
Note: You can also use this software to format drive to NTFS, exFAT, Ext2, Ext3 and Ext4 as well.
Tutorial 3. Convert Large Hard Drive to GPT without Data Loss
Step 1. Locate the MBR hard drive with large capacity, right click it and select "Convert to GPT Disk".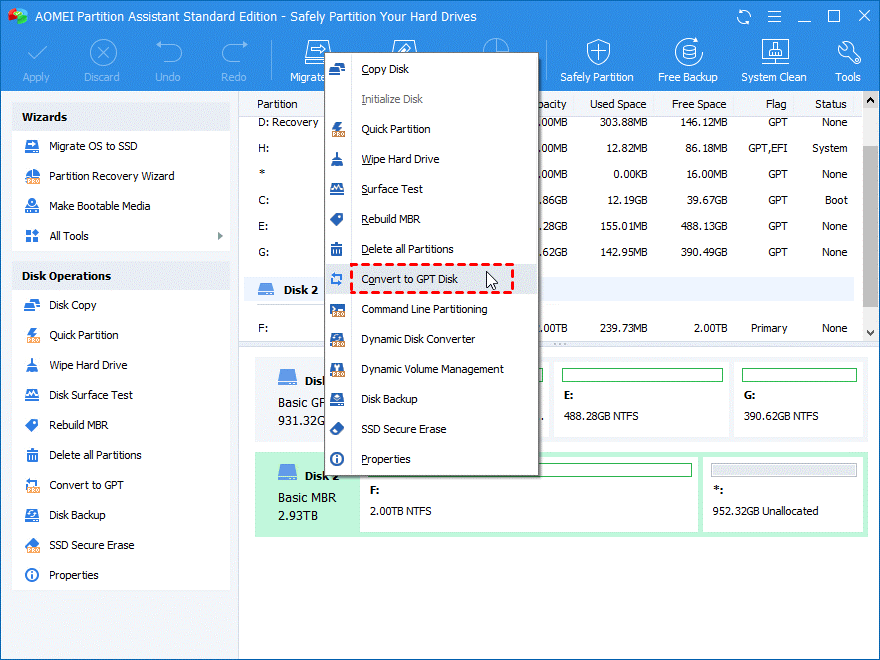 Step 2. Click "OK" to continue.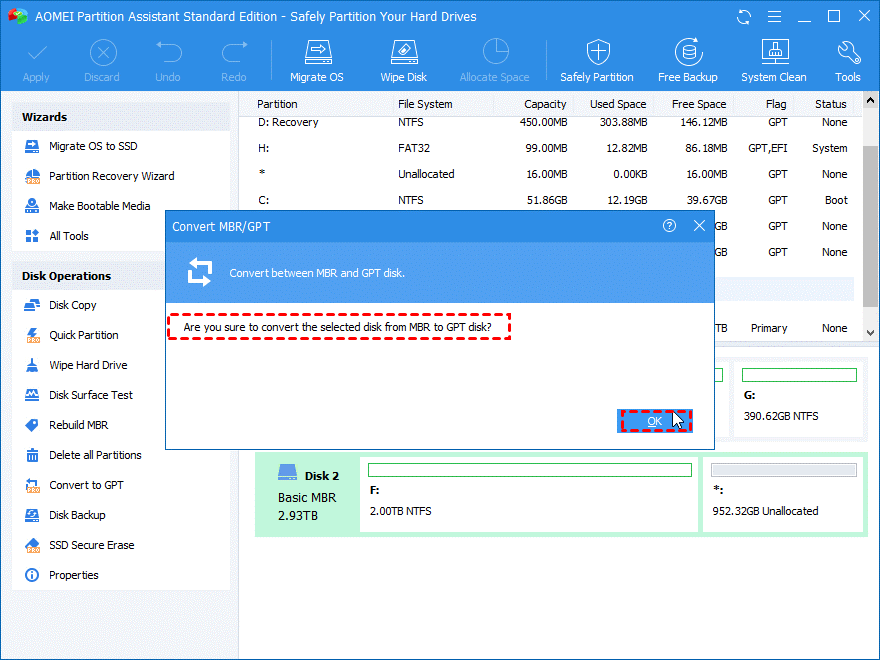 Step 3. Click "Apply" and "Proceed" to commit the operation.
Notes:
AOMEI Partition Assistant Standard can convert external hard drive to MBR without losing data as well.
It doesn't support convert system disk to MBR/GPT. To convert system hard drive to MBR/GPT, you can upgrade AOMEI Partition Assistant Standard to Professional edition.
AOMEI Partition Assistant Professional has more advanced functions, like splitting partition, converting dynamic disk into basic, recovering lost or deleted partition, converting logical partition into primary without formatting and so on.
Bottom line
Definitely, AOMEI Partition Assistant is a worthy-trying partition manager for managing your internal/external hard drive partition. It is fairly considerate and supports you to preview operation result, undo, redo, and discard operation, which enables you to take operation more effectively.
For example, if you plan to format the drive to FAT32 but you choose NTFS and click "OK" during the formatting process, you don't need to start format from the beginning. You can just click Undo and choose the file system again. The user-friendly interface design is an important element for users to choose the software. And the detailed guides presented on its official website enable rookies to take operations easily.